This weekend's must-read digital comics include: Marvel's latest cinematic movie prequel in Amazing Spider-man Infinite; Archer Coe and the Thousand Natural Shocks, a hypnotic new indie series from Oni Press; and Needles and Dust an Israeli digital graphic novel app from Tsach Weinberg.
Amazing Spider-Man Cinematic Infinite Digital Comic (Marvel Comics) #1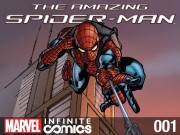 We're in the middle of the most superhero-packed blockbuster seasons of all time at the moment and after last week's Guardians of the Galaxy Infinite movie prequel, this week we are being treated to a movie prequel Infinite comic for the one and only webslinger himself in the epicly title Amazing Spider-man Cinematic Infinite Digital Comic – henceforth to be known as ASMCIDC. After the dark tones of Superior Spider-man, and the universe changing events of Spidey in recent years, ASMCIDC is a real step back into old school spidey story-telling with  Peter Parker in the costume, slinging webs and cracking wise. It's not a complete return to the old school (that's coming in Amazing Spidey #1 later this month) as it is still set in the movie universe where Gwen is his girlfriend and he has grippy soles on his boots, but at it's core it is classic Spidey and there's something really refreshing about that for long-time fans. Sitting between the two movies and away from continuity, it is pretty low on impactful storyline or in-depth action, so will never be remembered as a classic, however for a quick bit of old-school Spidey fun it is a fantastic throwback to a bygone age and gives us a tantalising taste of just how exciting a fully-fledged Infinite Amazing Spidey may well be.
ASMCIDC is available from ComiXology and the Marvel Comics app for £1.99/$2.99
Archer Coe and The Thousand Natural Shocks #1 (Oni Press)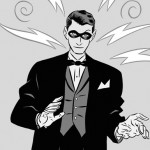 There's something about hypnotists that make them great protagonists for a story and Archer Coe is just that kind of intriguing character. Released via ComiXology in twice weekly chunks this new series from Oni Press it has a sparkling script from Jamie S Rich and in the first episode we are introduced to one of Archer's unique quirks as we find out how he manages to communicate with cats via a superb set-up on a bench in a park and then get a glimpse of his act which leads us to his encounter with a mysterious man who wants him to make a house call. The real nitty gritty of the story starts in part two where Archer agrees to help solve the marital woes of local business man Jack Midland but it is not all quite as it might seem. With superb monochrome artwork from Dan Christensen which evokes both the weird and wonderful world of classic pulp but also the modern indie quirkiness of Mike Allrad, Archer Coe is a really unique book that will evolve into something truly special over the course of it's run (we've been lucky enough to check out the whole thing) so be sure to get involved at the very start as it's one hell of a ride!
Archer Coe and The Thousand Natural Shocks is available from ComiXology for £0.69/$0.99 per issue
Needles and Dust (Tsach Weinberg)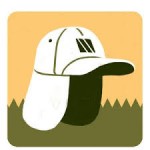 Needles and Dust is the the story of Ziv an enthusiastic forest watchman and nature lover whose summer is spent keeping an eye on the local woodland and the weird mix of people he meets. Creator Tsach Weinberg is an artist and interactive developer from Israel and has created Needles and Dust as an iPad only app to "help use the digital platform to create enhanced story-telling". Mixing animated opening sequences, slick page transitions and some uniquely laid out pages that allow panels to scroll over the top of existing pages it's a really great product with excellent production values that's so much more than just another page turner. Although the story itself is relatively simplistic and a bit rambling at times, and the artwork is quite basic (done in a simplistic digital painting style), it has a cool art house sensibility and so these individual elements work in harmony together to create something which is different from the usual superhero wannabes we see on the app store and so well worth checking out.
Needles and Dust is available from the iTunes Store for £2.99/$3.99
Author:
Alex Thomas
Alex Thomas is the Editor and founder of PIpedream Comics. He grew up reading comics in the 90s, so even though he loves all things indie and small press, he is easily distracted by a hologram cover.