This weekend's Sunday Digest features essential weekend reading from Marvel's Guardians of the Galaxy Infinite Drax the Destroyer, alongside two great indie comics with Hugh and Bot by Drew Crowley and Goblin Hood from Bobby Timony.
Marvel Infinite Guardians of the Galaxy: Drax the Destroyer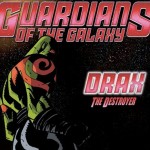 This week see's another great Marvel Infinite title available for free, and this is probably our favourite of the bunch as it comes from the Powers creative team of Brian Michael Bendis and Michael Avon Oeming. We spoke to Michael about it back in March and you can read that here, but in the mean time check out this truly unique take on the Infinite format from one of the most exciting creative pairings working in comics today.
Marvel Infinite Guardians of the Galaxy Drax the Destroyer is available for free from ComiXology of the Marvel Comics app
Goblin Hood (Twin Comics)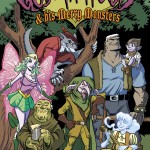 We recently raved about Bobby and Peter Timony's Detectobot #0 from MonkeyBrain Comics, and if you liked that then you will love this solo offering from Bobby. Taking the Robin Hood story and giving it a Monster Squad makeover, it's loads of fun with a great sense of humour and great twists on the established story. Robin is a Goblin, Little John the world's smallest giant and Maid Marian is a fairy called Fay Faeroni. This first issue introduces us to the whole gang thanks to narrator Ellen O'Tale a story-telling banshee based on Allan A Dale and does a great jobbing of setting everything up for next time. A superb all-ages treat.
Goblin Hood is available from ComiXology for £0.69/$0.99
Hugh and Bot #1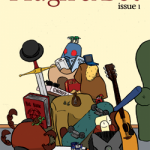 Another success story from the ComiXology Submit platform, Drew Crowley's Hugh and Bot was originally released as a web comic in the early 2000s and the first issue is now available on your iPad in a collected edition. Like a combo of the Odd Couple and Atomic Robo, Hugh and Bot is a brilliant sit-com style story about a love lorn slacker and his android room mate. This first issue sees him at odds with his mother about the cleanliness of their apartment before heading out for dinner to Rocket Roy's and having a life altering encounter. It's quite low-fi in style and rough around the edges, but there is a real charm to the story-telling and the dynamic between Hugh and Bot which makes it very readable indeed.
Hugh and Bot #1 is available via ComiXology for £1.49/$1.99