Since his creation by Ian Fleming in 1953, the iconic James Bond 007 has regularly appeared in all forms of entertainment, except comics. But now Dynamite comics have recruited legendary writer Warren Ellis to put together an ongoing series of England's most dangerous secret agent. But will this new title leave readers shaken or stirred?

---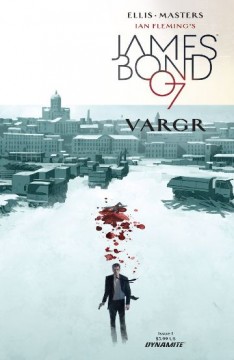 Publisher: Dynamite Comics
Writer: Warren Ellis
Artist: Jason Masters (Artist), Guy Majors (Colorist), Simon Bowland (Letterer)
Price: £2.49 from ComiXology
[yasr_overall_rating size="large"]
---
The first issue of James Bond begins the Vargr storyline which has 007 taking on his deceased co-workers workload, after completing a revenge mission on the killer of a colleague. The first case of this workload is to investigate a new drug operation and stop its import into the UK, a task made more difficult by the enforcement of new rules against 00's which restrict Bond's skills. However, new procedures are not Bond's only problem as an unknown enemy has instructed an unusual assassin to halt 007's progress, immediately.
From the get go, Warren Ellis infuses this issue with a remarkably Bond feel. The cold open action scene in the construction yard is a perfect representation of Bond, giving off the sense of every 007 film right up until the trademark 'down the barrel' shot (which here is implied with a splash page of Bond in a red circular view). However, these are quite possibly the only references to the film franchise, as Bond himself is depicted in such a way as to have very little in common with his live action counterpart, coming across as more arrogant and confrontational. which may make empathising with the character difficult if you have grown up watching the more charming and witty Bond.
The writing isn't the only way Bond differs from his more famous film appearances, as artist Jason Masters creates a Bond which does not resemble any Bond actor. This implies that the character is more in keeping with the original Fleming Bond, although the downside to this is his resemblance to TV character Sterling Archer (who himself was based on Bond). That said, the art throughout is solid, if a little inconsistent, as the style differentiates from a more gritty Maleev style in the beginning to something a little crisper and cleaner in the second half. That said, both styles appear to have been used well, with the crisper style having bold colours imbuing Bond's more sophisticated character to his surroundings, while the early, gritty pages looking rough and giving off a rougher vibe in keeping with Bond's more vicious tendencies.
Although this first issue is very stylish, it does lack a compelling plot and does not deliver much in the way of explanation or exposition regarding the mission ahead. In fact, this issue's seemingly primary task appears to be introducing Bond's universe to the reader before engaging in story. That said, this flaw is made up for, in some way, by the intriguing cliffhanger which implies something greater and more in keeping with Ellis' quality is yet to come.
---
"Despite a lacklustre story, this opening instalment of James Bond #1 is an incredibly stylish read that allows readers the opportunity to get another dose of their favourite secret agent. If subsequent issues can make good on the promise offered at the end of this entry, then this might be a series which deserves to be on any Bond fan's pull list."
---