The first arc of Jack Foster's Gun managed that rare thing in indie superheroes of being a book that doesn't feel like a simple copy of a big two title,and instead felt like it actually had something fresh to say with the genre. A mix of crime noir and a heist thriller, but with capes, it was a firm fixture on our last two best of countdowns, so how will this new story arc live up to that first caper?

---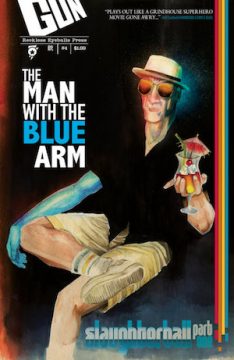 Publisher: Reckless Eyeballs Press
Writer: Jack Foster
Artist: Jack Foster
Price: $1.99 digital copy from the Gun Comic Shop
---
Having successfully evaded the bounty that was put on them in issue 1, Trevor (aka Mr Twist) and Olive (aka Strongarm) are back and this time are getting lured into the seedy world of a super villain cross country race called Slaughterball (where bad guys drive across America to get a bomb into one of the coastal end zones before it explodes). Trevor is recruited by a gonzo journalist called Woody Dallas who wants to get inside and report live from behind the wheel of a Slaughterball car, and gets Trevor to infiltrate his way into the secretive cabal in order to get him an exclusive article. So in other words, this all adds up to be the Cannonball Run meet Fear And Loathing In Las Vegas reimagined by Ed Brubaker.
This new arc is a bold step in a new direction for Foster as it moves away from the more traditional noir-esque tropes of the first arc into a more dystopian caper territory. The world building was always a big part of the early issues (especially in #2 when we discovered the super villain brothel) but issue 4 broadens the ideas even further and gives us a glimpse into this wider villain infested world. The downside to this direction shift is that, based on one issue, it doesn't quite have the simplicity of concept as the first arc managed and there is a lot of set up going on and not a lot of action, however we can see Fosters long term ambitions for this story and trust that this will all pay off in the end.
It certainly helps that his artwork and sense of design are still second to none. From the super stylish cover, via the Dark Knight style news channel that introduces the concept of Slaughterball, through to the incredible double page spreads that introduce Trevor and Woody and then sees Mr Twist demo his powers. Visually, Gun is a book that looks like every page has been achingly crafted to be as cool and considered as it can. The sense of design is very sharp and Foster isn't afraid to push the boundaries of panel design, while the painted artwork feels like each page must take hours to do, as it balances lush texture and colours with a cartoonish style that means it feels both very classic but also still very much a comic book.
All of which reinforces what we said earlier, that what makes Gun work is that it doesn't feel like it is trying to copy the Big Two, and it very much has its own sense of identity. It reminds us of Powers in that respect, as although it clearly owes a debt to the classic capes of the Silver and Bronze Age, it is also very much it's own creation. As such this radical sideways move into a new direction feels like a completely logical move as the world it is set in is so well realised, and the characters so relatable. Even though we have our reservations based on this first part, we have faith that it is heading in a very interesting direction, so if you want to get blown away with the world of Slaughterball, then jump on board now before it explodes!


Author:
Alex Thomas
Alex Thomas is the Editor and founder of PIpedream Comics. He grew up reading comics in the 90s, so even though he loves all things indie and small press, he is easily distracted by a hologram cover.