Alongside his earlier works like Delta and Mack & Mondo SJ McCune's Cold Colony was successfully backed on kickstarter earlier this year, and has now been released on Comixology, so we take a look at this new one-shot about a murder mystery taking place within the colony of a cold planet. Will this addition to his bibliography be a case worth solving or will it just be another title left out in the cold?
---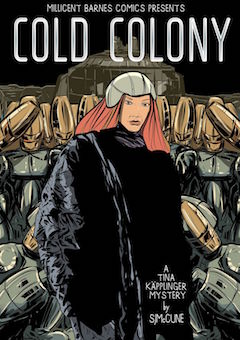 Publisher: Millicent Barnes Comics
Writer: SJ McCune
Artist: SJ McCune
Price: £1.49 from ComiXology
Our rating:
---
With only seventeen days left at the Farizuza cold colony, Tina Kapplinger has a problem. After a long, hard day's working at this desolate place, dreaming of going home, Tina finds herself a witness to a case of authoritative brutality. However, when the lights go out things take an unexpected turn as Tina discovers one of the colony's enforcers mauled to death. Now, having been 'recruited' by her manager to do so, Tina must investigate who killed this enforcer before an investigation team is sent to relieve her, and she she forced to miss her transport off this rock and home.
SJ McCune has created a very sombre tale in Cold Colony right from the word go. The story is a real slow burn, taking its time to fully immerse the reader in it's dark, almost depressive tone. But Cold Colony's best asset to it is that is read almost perfectly as a true noir story converted to comic form, including many of the tropes such as first person narration and grizzled, lone wolf style protagonist. As for the lead, Tina Kapplinger isn't greatly fleshed out in terms of backstory, but nonetheless is written very well, feeling realistic (for the genre) and likeable while the other characters, come across as slightly creepy, helping to give the book a rather unsettling horror movie-esque feel.
Meanwhile, McCune's art does much to enhance the sense the writing has already given the book. His art style, while rough, has a very anime look to it as well as similarities to indie title Fourth Planet which helps to highlight the rather dark and creepy tone. Meanwhile, the colours are used to contrast this and helping the panels to pop against the story's backdrop, while also imbuing a sense of Michael Allred's style which is most notable in the scenes involving the pleasure model android.
Cold Colony is a surprisingly compelling and enjoyable read which perfectly encapsulates and utilises the term one-shot. With an immersive story, fitting art and an ending which is quite unexpected, SJ McCune has hit the ground running with this title and is most definitely worth investigating.