Brian Clevinger and Scott Wegener's sci-fi comedy Atomic Robo is given a new lease of life with a ComiXology Submit release, dusting off this classic piece of digital store-telling in Atomic Robo: Two Fisted Tales: Along Came a Tyrantula.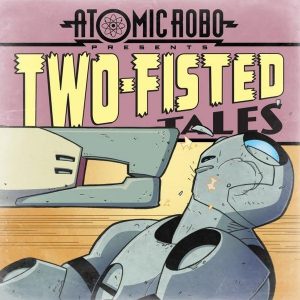 Publisher: Tesladyne
Writer: Brian Clevinger
Artist: Scott Wegener
Price: £0.69/$0.99 from ComiXology
Originally offered as a free give away for attendees of the recent Emerald City Comiccon in 2013 (and an initial ComiXology release the same year)  the colon-tastic Atomic Robo: Two Fisted Tales: Along Came a Tyrnatula has returned to the digital marketplace via ComiXology Submit.
Robo's first trip into the world of full blown digital comics is a full-tilt Guided View adventure, and so relies on an action-packed story to make the most of the slick transitions. Robo takes on the mighty Tyrantula, a spurned ex with bionic spider-legs whose name he just can't remember.
It's packed full of the usual crackling dialogue you expect from writer Brian Clevinger with quips and quirks galore, while artist Scott Wegener manages to brilliantly capture the quirky humour of the series while packing the book full of great visual gags courtesy of Guided View and is up there with Deadpool: The Gauntlet and Xeno Trip as one of the funniest Guided View books around.
Although still a one-shot in terms of plotting, Atomic Robo: Two Fisted Tales manages to capture the look and feel of the original comic perfectly and the motion elements never get in the way of the reading experience. A perfect start point for new readers to get a taste of this indie stalwart, but with enough of the usual Robo humour to satisfy long-term readers at the same time. Be sure to check out the other great Atomic Robo titles now available on ComiXology to really appreciate this brilliantly funny series!
"A knockout combination of great humour, brilliant art and clever Guided View transitions makes Atomic Robo: Two Fisted Tales: Along Came a Tyrnatula an almost perfect digital comics experience!"
Author:
Alex Thomas
Alex Thomas is the Editor and founder of PIpedream Comics. He grew up reading comics in the 90s, so even though he loves all things indie and small press, he is easily distracted by a hologram cover.