Afterlife with Archie volume 1 shouldn't work. The notion of reimagining the wholesome world of the Riverdale gang as a blood soaked zombie horror book should be a one line joke on a sub-reddit about the ultimate 'what if' mash up. Yet thanks to the superb creative team of Roberto Aguirre-Sacasa and Francesco Francavilla it not only works, but it manages to make an Archie comic, one of the best books we've read all year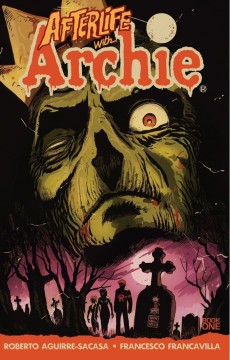 ---
Publisher: Archie Comics
Writer: Roberto Aguirre-Sacasa
Artist: Francesco Francavilla, Jack Moreli
Price: £12.99 from ComiXology
[yasr_overall_rating size="large"]
---
Over the course of their 75 year existence, the adventures of Archie, Jughead, Betty and Veronica have become an American institution. These high school students and their antics in the town of Riverdale are as iconic as the stars and stripes or apple pie, so how do you make them relevant in the new millennium?
The publishers of Archie have opted to do this by creating a new sub brand of Archie themed horror books, that sees the Riverdale crew re-imagined in a world that feels like a mix between EC Comics and The Walking Dead. Taking this iconic cultural institution and subverting it in this way is a pretty bold move and would be like Marvel launching a book called Captain America joins the Taiban or DC releasing Batman's Tales of Romance. However unlike these facetious titles Afterlife with Archie works because it is done with a completely straight face – albeit one locked in terrified rigour mortis!
When his faithful hound Hotdog is run over by Reggie, Archie's best pal Jughead chooses to resurrect him with a bit of help from Sabrina the Teenage Witch (who is also getting the horror revamp in this universe). As Hotdog goes all 'Cujo' on the residents of Riverdale he kills his master and the two of them begin to spread their infection around the town forcing Archie, Betty and co. to hide away in Veronica's Dad's mansion. All of which sounds like a synopsis to a dozen or more video nasties from the 1980s, but again, that's why this works. The archetypes of horror and high school romance are so similar (jocks, nerds, bickering girls) that the two genres can cross over in a way that other attempted mash-ups (e.g. Archie vs Predator) can't always manage.
Although writer Roberto Aguirre-Sacasa perfectly balances the horror of the story with the familiar banter of the Riverdale gang, it is artist Francesco Francavilla who truly makes the book work. It was his variant cover for an edition of Life with Archie in 2013 which started this whole horrific idea, and thanks to his EC Comics/European style which is heavy on shadow and foreboding figures he casts the world Riverdale into a perpetual shadow, instead of the clean and sunny cartoon visuals we are used to. This is further amplified by an eery orange and red colour scheme  which gives the book the look of a Dario Argento horror movie.
Both writer and artist commit fully to the darker side of this story and don't shy away from a bit of blood and guts, grabbing hold of this new genre with two blood-splattered hands! Because this is separate to the main Archie timeline, Aguirre-Sacasa and Francavilla can kill off major characters left and right without worrying about continuity, and so unlike other sensational twists and turns where you know they are just going to get reset in time, Afterlife with Archie manages to maintain a level of quality and commitment to it's ideals that make it much more than just a novelty issue. Instead it becomes a perfect example of how to energise an established title and create something new and exciting as a result! As appealing to new readers as it is to long time fans, Archie has never been more exciting!
---

"Afterlife with Archie, brings the Riverdale gang back from the dead to create the ultimate 21st century reboot. Archie and co. have never been as edgy and cool as they are in this genre mash up, with a perfect mix of classic characters and gruesome scares that is just as enjoyable if you are a new reader or a longtime Archie pal. "
---
Author:
Alex Thomas
Alex Thomas is the Editor and founder of PIpedream Comics. He grew up reading comics in the 90s, so even though he loves all things indie and small press, he is easily distracted by a hologram cover.