Jason Aaron and Jason Latour's new slice of Deep Southern grime, Southern Bastards #1 reeks of redneck from the very minute you read it's title to the very last page, but is there more to it than a sweary title and baseball bat beatings?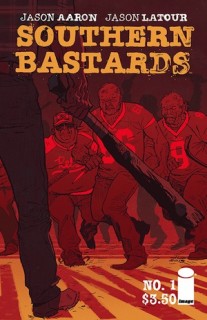 Publisher: Image Comics
Writer: Jason Aaron
Artist: Jason Latour
Price: £1.99/$2.99 from ComiXology and the Image Comics Digital Store
You'll probably work out if Southern Bastards is your kind of book pretty early on. The title will put off quite a few of the more sensitive readers and the opening splash page of a dog crapping by the side of the road will dispatch yet more. But for anyone bold enough to get past the defecating dog, the baseball bat beatings and deep fat fryer fights they are rewarded with the marvellously grim tale of a man returning to his inbred Southern home and dealing with the legacy of his sheriff father that taps into that kind of deep south Americana that we know from films like Deliverance or Southern Comfort.
The men responsible for this redneck revenge story are two Jason's (Aaron and Latour) who are a pair of self confessed southern boys and this is their love letter to the south's dark underbelly. There's rednecks in pickups with the confederate flag, there's faded football heroes in BBQ diners and a mysterious villain known as The Coach.
Set in the small town of Craw County this a world that revolves around the simple things like college football and good ole boys whose greatest achievement was on the gridiron, all of which tinges the story with a sense of melancholic failure and regret that gives the book a real heart. Aaron's dense script sees sheriff's son Earl Tubb return to his childhood home to pack up the family house after his father's death. As he deals with the legacy of his abusive father who was loved by the townsfolk he served, he comes into contact with the mysterious Coach after an encounter with an old childhood friend. This tale of a man trying to deal with the death of his father is as poignant as his memories are horrific and is put into stark contrast thanks to Latour's scratchy artwork which gives the whole story an angular and edgy quality that matches Aaron's grimey script.
This isn't the polished world of modern America this is a dirty and violent version that lives in the shadows and the back alleys of forgotten towns and is given an extra wash of grimness thanks to superb colouring that adeptly uses muted colours for the main story and harsh bloody reds for Earl's childhood flashbacks.
With it's adult themes and content, it is not a book for everyone but don't let the name fool you this is more than just a sensationalist shock book. In the case of Southern Bastards, the name is a perfect description of the kind of hard-edged tone you can expect from this book. However lurking underneath that hard edge is a depth and sophistication to the writing and artwork that makes it one of the most exciting and compelling books we have read so far this year. A future classic.

"Southern Bastards is Latour and Aaron's blood soaked, whiskey stained love/hate letter to the world of college football and the confederate flag. A masterpiece of dark and dirty story-telling, it's time to pour yourself a Jack Daniels, put Lynyrd Skynrd on the stereo and embrace your inner redneck!"
Author:
Alex Thomas
Alex Thomas is the Editor and founder of PIpedream Comics. He grew up reading comics in the 90s, so even though he loves all things indie and small press, he is easily distracted by a hologram cover.