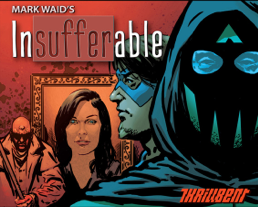 This week sees the arrival of the first 3 issues of Mark Waid's Insufferable on ComiXology. Previously released as weekly updates on his website Thrillbent.com, each issues comprises two installments and introduces us to the world of aging superhero Nocturnus and his upstart protege Galahad. Although it was a great read online  Insufferable's natural home is on a tablet and being able to read each issue in glorious full screen is a real treat. As you would expect, Mark Waid's writing is as sharp as ever, using his years of experience with DC and Marvel's big names to explore the dynamic of the aging master and precocious pupil to really get under the skin of the characters. At times it's like reading 'Batman and Robin Go To Therapy', but with a smart and intelligent post-modern twist. With so many titles looking to skewer the superhero dynamic it is refreshing to see something as genuinely original as Insufferable and although the characters may seem archetypal, they need to be in order for the story to work. The added bonus of Nocturnus and Galahad being father and son (which is revealed early in issue 1, so I hope isn't too big a spoiler) adds a further element of soap opera drama to the story lines and yet more reason for their animosity and Waid's handling of this is exemplary.
As with many digital titles though, what helps them stand out is the artwork and page design and Peter Krause's artwork is superb here. Although it may lack some of the fancy features of Marvel's Infinite titles, it uses a subtley that those books lack and manages to tell dialogue heavy stories with cleverness, rather than rely on action to show off it's fancy effects. Whether it's panels appearing in sequence to help reveal action slowly, elements dropping in and out of focus within a frame or the excellent spilt-screen narrative in part two, the experience that Krause brings to the title gives it a real maturity and sense of depth that other digital titles don't yet have.
With each issue including additional behind the scenes stories from Waid and sketches from Krause, this is the closest you'll get to the trade paperback experience in digital form, and with their bargain price of £1.99 per issue, you cannot afford to miss out.
Issues 1-3 of Insufferable are available now on ComiXology for £1.99 each (69p for issue 1) while newer episodes are available on Thrillbent.com