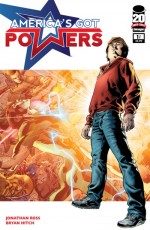 Depending on which part of the world you live in, America's Got Powers is either the new book from celebrity comics fan and UK chat show host Jonathan Ross OR the new book drawn by Ultimates/Authority super-artist Bryan Hitch. It's a curious pairing because the majority of comics fans probably won't know (or care) who Ross is and the majority of Ross fans probably wouldn't bother going to the trouble of searching out a comic by him. However it has managed to get them some mainstream press (such as this article in the UK Sun) and thanks to Hitch's status as one of the true event artists working in comics at the moment this has the feeling of something very exciting.
When it comes to celebrity comics writers, there tends to be two extremes: either there's Kevin Smith, whose run on Daredevil and Green Arrow helped revitalise the books and made a genuine contribution to those titles; Or there's Guy Ritchie whose Gamekeeper book nominally involved him and was done purely for marketing reasons for the start-up Virgin Comics and had no real substance. Fortunately AGP falls much more into the former camp, with Ross more than acquitting himself as a comics writer (perhaps he's been getting tips from his Hollywood script writing wife, Jane Goldman!) and having cut his teeth on the critically well received Turf in Mark Millar's Clint, gives the whole thing a very polished feel. No doubt this was ably assisted by the experience of Hitch who has worked with the industries' top names like Millar, Bendis and Brubaker in the past few years, however the story of a Battle Royale style game show with it's Simon Cowell-esque mentor is clearly something that comes from the world of Ross and his celebrity connections.
The story itself sees super-powered teens pitted against each other for the chance to join America's first super team (a la Battle Royale or Running Man) and gives the book a much more dynamic sporting feel than the usual punch 'em up superhero books that we are used to seeing Hitch draw. Although this idea of superheros as sports stars/celebrities isn't new (just check our perennial Pipedream Comucs favourite Power Play for example) it does give Hitch the chance to stretch his artistic muscles with plenty of wide screen shots of stadiums full of people taking in the action as dozens of super-powered teens leap in and out of the frame to take on swarms of killer robots. Add in an origin story that sees a meteor strike in heart of San Francisco (the source of their super powers) and it has the epic big canvas feel that we have come to know and love from a Hitch book.
At a whopping 36 pages, AGP is a bit like a double episode at the start of of a hit American TV series and so should keep fans appetites under control as we wait for the next instalment. Hopefully the combination of part-time writer and notoriously late-running artist won't get us waiting for too long, however with the debut story arc covering all the main bases of establishing the character America's Got Powers is a fantastic first look at what could be a genuinely intriguing series.
Americas Got Powers is available on ComiXology or via the Image Comics app for £1.99