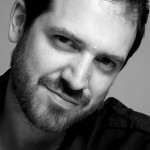 Author Joe Abercrombie has sold more than 2 million copies of his The First Law trilogy in 26 languages, and is now set to conquer the world of digital comics with his first book, The Blade Itself being turned into an ongoing series by the team at Blind Ferret. With the expert help of legendary comic writer Chuck Dixon and with art by Andie Tong the adventures of Logen Ninefinger and co are being released via ComiXology in monthly instalments as well as in thrice weekly updates on Abercrombie's website firstlawcomic.com. Wanting to get find out more about, we contacted Joe and editor Rich Young to find out the secrets of The First Blade, and fortunately we didn't need to rely on the interrogation skills of Inquistor Glokta to find out the truth!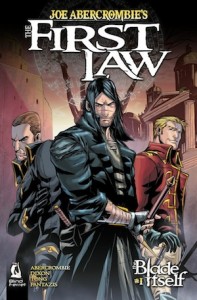 What made you decide to convert The Blade Itself into a graphic novel? Are you a massive comics fans yourself or was it the result of fan requests?
JA: From my point of view it was an interesting approach and method of distribution that made me think this could be well worthwhile.
RY:  From my point of view, a friend had loaned me the book, and after reading it VERY quickly, I immediately went and devoured the other two novels.  Right away I could see the amazing potential for comics, so I pitched Ryan Sohmer, co-owner and Creative Director at Blind Ferret on it, he gave the green light, and fortunately I was able to get in touch with Joe right away and work out a deal with his agent.
How close is it to the original source material? Have you made any changes to fit this new medium and format?
JA: It's a pretty comprehensive and faithful adaptation.  Obviously these are chunky books but we haven't really been losing whole scenes very much, the vast majority is still there.  Obviously dialogue tends to get pared down to the essentials, and a lot of the thought and feeling of the characters has to be expressed through the art.  That's what a comic offers you, of course, a well drawn picture can tell a thousand words.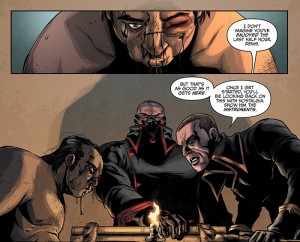 Tell us a bit about how you got involved with Chuck Dixon and what do you think he brings to the book from a writing perspective? Was he a fan of the book before you started and were you a fan of his work?
JA: From my point of view what he brings is an effortless familiarity with the medium.  He's got a great sense for what to leave in and what to leave out, but also for what angles to choose and what panels, for what to keep as dialogue and what to render into expression, for how to get the most out of an individual image.
How much input did you have into the look of the book and the artwork from Andie Tong and how has he done converting the characters in your head into fully fledged comic characters? Have you had to tweak or expand any of the characters to get them looking right in comic form compared to print?
JA: Someone was foolish enough to give me full editorial control, but I've tried to use it with a firm yet gentle hand.  I think when you work with an artist you get the best results if you let them do it the way they see it, in the main, and I think Andie's got an amazing knack with the costumes and settings.  There've been tweaks to make here and there but generally I've loved what he's come up with, and really enjoy seeing his take on the material.  It's one interpretation of many possible ones, I think, but it's one I totally endorse.
RY: As an editor, the most important part of the job is to get the right creative team in place.  If you get that right, everything else tends to fall in place pretty nicely.  And our creative team here fit together very well.  Chuck's prior experience with adapting fantasy novels, Andie's strong character design and fantastic eye for detail, Pete's wonderful coloring skills and palette choices, and Bill's super solid lettering and design…it all added up to the great pages you're seeing here.  Joe has also done a fine job of stepping in when he needs to, but also giving the team the freedom to do their thing.