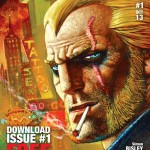 Combining an epic story of battling angels and demons with artwork from UK comics legend Simon Bisley, the 13 Coins comic is an exciting new digital debut from first-time publisher Corinthian. Released via an iPhone and iPad app (available to download here), rather than a third party storefront, it's an exciting  6-part series packed full of stunning artwork and a sprawling story that spreads out across the entire history of mankind and beyond! The men behind this ultimate adventure of good vs evil are Martin Brennan and Michael B Jackson, best known as the authors of video game Hitman: Absolution, so we got in touch to ask them how different it was creating a comic rather than a computer game and how they got the elusive 'Biz' to draw it for them?
Tell us a bit about the inspiration for 13 Coins its got a very mythic and epic back story mixed with a modern day setting too, so what kind of story did you set out to tell and how has it evolved over time?
MJ: The concept for 13 Coins is based on an observation that almost every religion and culture in the world has two things in common- Angels and Demons.  Whether its Europe, Asia, North America or South America, the indigenous people of the area believed in angels and demons.  Every culture also has heroes.  In modern culture, those heroes are mostly professional athletes.  Be it football (soccer), basketball, American football, boxing or whatever, we love our professional athletes.  But what makes Lebron James so unstoppable on the basketball court?  Or Lionel Messi on the soccer field?  Or Floyd Mayweather Jr?  Or Serena Williams?  Or Richie McCaw?  Could it be these people are descendants of angels, but don't know it?
MB:  13 Coins is your classic ultimate good versus ultimate evil story.  But in reality, no-one is all good and no-one is all evil.  You have to look deep into people to find out what they are really about, and that is one of the themes in series.  We all have a side of us we want to hide.  Also, many of us have a side we don't know about, and would never know unless we are pushed to find it.
Your background is writing video games how different was it writing for comics compared to video games and do you think you brought a different way of writing with you as a result of your experience?
MB: We were fortunate that we were asked to work on the script for Hitman: Absolution.  It is a game with a very well developed main character in 47, and a rich far-reaching story.  The difference in the two mediums is that you have to leave room for the player when writing a game- allow for their interaction.  You have to keep in mind that the player wants to become part of the story of the game he's playing.
MJ: Exactly, so you write game-play into the story.  Comics/graphic novels don't contend with game play.  But the writer must consider the artwork.  Give the artist scenes to showcase their talents.  For example, when Biz [artist Simon Bisley] first described his ideas for the war in Heaven between the angels, we knew then at that moment, that we had something special. Elements of Vlad the Impaler mixed with the great battle in Heaven. There's no nice angels – no white wings – they're drenched in blood from battle.
The artwork is done by the legendary Simon Bisley, how did he get involved and what did he bring to the project in terms of creativity and credibility?
MB: We were introduced to Simon through a mutual friend, Andy Brown, a number of years back.  Simon read an early draft of the story and agreed to do it.  Simon's creativity has been tremendous for the project.  His vision, enthusiasm and raw energy.  Of course his experience in comics has been immeasurable, but his creativity and ability to visualize the story has really brought the characters we've written to life.
We were fans of Simon's well before we met him.  He's a great talent, and a really good person.  He's got a Lobo side to him, but that's the hidden side we mentioned earlier. Simon was genius enough to make a comic about his hidden side… As he often does… puts a bit of himself into his charcaters- just look at his John Constantine work – Constantine was Simon in a way.
MJ: Without a doubt Simon's name brings instant credibility and marketability to the project.  He's an elusive major talent that chooses his projects carefully.  Simon is drawing 13 Coins because he wants to.  He really likes the story.  He believes in the characters, and he believes in us, the writers.
You're releasing 13 Coins via your own app produced by Corinthian, why go down that route instead of the ComiXology or website pdf route?
MB: The decision to release 13 Coins as a stand-alone app came after a meeting with former Namco president, Barry O'Neill.  We had one issue of 13 Coins completed, and Barry expressed interest in bringing it out through his new venture Corinthian– making it Corinthian's first comic series.  Given Barry's past experience and his enthusiasm for 13 Coins we knew we had to go with him. Corinthian worked with tech company inlifesize, and animation genius Greg Maguire on bringing the digital comic to life.
Greg is a legend, having previously worked on Harry Potter and the Prisoner of Azakaban, Happy Feet, Avatar, Terminator etc – the list goes on.  Unfortunately though we can't tell how the tech is done – that's all part of the mystery… let fans enjoy the covers and wonder how it's done.
The books have some semblance of motion (especially on the covers) did you look at apps like Liam Sharp's Madefire for inspiration and are there plans to add any more interactive elements?
MJ: We are currently writing series 2 of 13 Coins, and the plan is to bring the tech that is being used in the covers on series 1 into the interiors on series 2. Not every panel coming to life, but a number of them that will add to the reading experience in a subtle way. We're big fans of Liam's Madefire, and the ComiXology experience, but we don't feel this is similar – especially when viewed on the iPad- Corinthian are trying as much as possible to ensure this stays as close as possible to a 'real' paper reading experience.  The plan is never to turn this into a motion comic- subtle movements within the art to add to the fun that is comic books.
How does the growth of digital comics help independent creators yourself?
MB: Digital growth is fantastic for self-publishers- especially with ComiXology etc bringing it to people's attention more than ever.  We were fortunate enough to meet Barry and fall under the wing of Corinthian at an early stage in the company's development so although we are not self-publishing, our series is still able to get published digitally and made available to fans without the need of a 'big' name like DC or Marvel taking it over.
You have 6 issues listed on the app, will that be the entire run or are there plans to carry it on after that and release other titles in this format?
MJ: Yeah, the world of 13 Coins is planned out way past issue 6.  The idea for Corinthian is for 13 Coins [and other titles] to keep going in the fashion laid out – 6 issues at a time for each series- and evolve as a company and a title.  They are also looking at other title's as well so watch this space on both fronts!
13 Coins is available to download for free here in both iPad and iPhone versions. Issue #1 is available to download for free and subsequent issues available for £1.49. For more info on 13 Coins visit their website or follow them on Twitter @13coinscomic
Author:
Alex Thomas
Alex Thomas is the Editor and founder of PIpedream Comics. He grew up reading comics in the 90s, so even though he loves all things indie and small press, he is easily distracted by a hologram cover.