We've been inundated with fantastic new digital indie comics this month, so here are some more of our favourites featuring: Andy Bloor's super anthology Andythology; sci-fi meets religion in Anti Gods; and a double bill of Nordic/Viking action in Madius Comics' The Kings Leap and Black Jack Press' Saga of the Northmen.
Andythology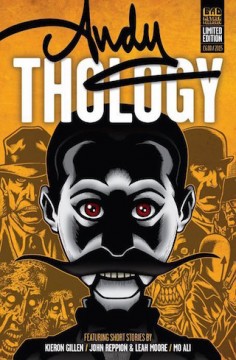 Midnight Man's Andy Bloor has assembled his own unique anthology of stories written by his big time comic book pals like Kieron Gillen, Leah Moore and John Reppion. It's great to see Bloor working with such accomplished talent and you can see his super detailed, blacker than black artwork working overtime on every page. Gillen's stories Zombie and Robot allow Bloor to revel in the world of the horrific and the macabre, while his collaboration with Moore and Reppion about a mystical fairground machine (think Zoltar from Big) has a real gothic Victoriana feel to it, which his shadowy artwork makes even more sinister. He also has a new tale from his regular writer Mo Ali, Skin Deep, as well as a short but sweet Midnight Man adventure, alongside some of his amazing pin up work. With his artwork continuing to defy the laws of physics and suck light into every page with the amount of black ink in every panel, Andythology  is a fantastic insight into why Bloor is one of those indie creators who is so beloved by his fellow pros. An essential read for all indie fans and the perfect way to discover his work before he hits the big time – which he definitely deserves.
Purchase Andythology for £6 from the Midnight Man Big Cartel store
How To Be A Superhero (Heartless Comics)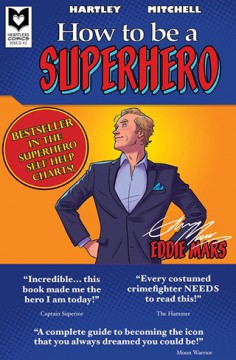 Eddie Mars used to be a superhero called The Knights Errant (or so he claims) but now he runs self-help groups on how to be a superhero, taking his willing disciples on raids around the city, but only after foiling a bank robbery to prove his credientials. In reality though, Eddie is a con-man who is taking them all for a ride, so when the Knight Errant's villains start turning up then things look set to unravel for his Get-Rich-Quick-Scheme. In the world of post-modern superhero stories, there are very few original ideas left, but Ned Hartley has managed to unearth one here to create a really inspired series. Eddie is the perfect mix of slippery shyster and down on his luck loser (whose police officer ex-wife gate crashes his seminar to get their divorce signed). The whole series has a very street level feel to it, using real-world characters who interact with heroes by accident rather than intent and really gets across that feeling of wanting to be famous by association. It's one of those ideas that could easily exist within the Marvel Universe and even without recgonisable names it brilliantly uses the idea of major heroes, rather than heroes themselves, to get the point across. With artwork from Stiffs' Gavin Mitchell it has a very classic modern Marvel feel to, which reminded us a bit of Ultimate Spidey's Mark Bagley, and helps to make the whole thing feel like an incredibly well-rounded and well realised series.
Purchase How To Be A Superhero from Ned Hartley's website
Kings Leap (Madius Comics)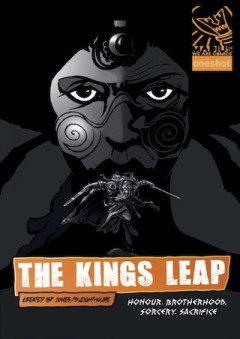 You don't get a lot of Viking comics these days, then two turn up at once! First up is Madius Comics' A Kings Leap which sees Robin Jones craft a dense and intricate story that sees an old crone telling campfire stories and attempting to scare some young kids – including the future king. Packed full of flowery language and historical detail it's a good job Jones is lettering this issue as well because it has an incredible words-to-page ratio. Artist Gareth Sleightholme does a superb job weaving the beards and battle axes around the plethora of word balloons on every page and gives the whole story a Barry Windsor Smith feel with loose but highly detailed pencils rendering the gnarly Vikings and monstrous baddies expertly. the greyscale coloring used throughout also gives the whole book a dreary and gloomy depth that works perfectly with the bleak and beardy subject matter.
Purchase The Kings Leap for £3.00 from the Madius Comics Big Cartel Store
Sagas of the Northmen (Black Jack Press)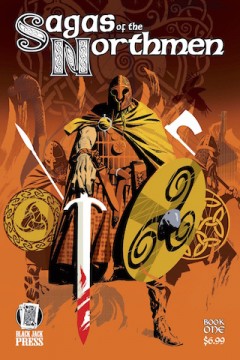 Another Norse tale, Sagas of the Northmen is an anthology of 7 short-ish stories about the familiar Nordic subjects of life, death, pillaging and the gods. Edited by Sean Fahey, who also includes scripts for 3 of the stories, it has a very serious tone, that evokes classic fantasy series like Epic Illustrated and of course vintage Conan, but this isn't a fantastical series, as it has a very grounded real-world approach – no dragons, frost giants or magic hammers here! It's artwork continues that serious theme with a Barry Windsor-Smith vibe to the whole book, packed full of dense detail and intricately crafted panels. While the artists are not big names, (the only one we recognised was Aces Weekly contributor Jok) the good news is there's no flavour of the month style or filler artists just making up the page counts. Every story feels like it has been specifically crafted to be part of a considered collection which helps make it feel like a much more cohesive set of stories. This desire to create 'authenticity' means it does suffer from some heavy-handed scripting and over use of flowery 'ye olde' language, which may be off-putting for some readers. However if you are after a proper piece of good quality story-telling, with strong visuals and a lot of Nordic action, then Saga of the Northmen will not disappoint.
Purchase Sagas of the Northmen for $6.99 from DriveThru Comics
Author:
Alex Thomas
Alex Thomas is the Editor and founder of PIpedream Comics. He grew up reading comics in the 90s, so even though he loves all things indie and small press, he is easily distracted by a hologram cover.