Andy Oliver and his team at Broken Frontier are some the most vocal supporters of small press online and their annual Small Press Yearbook has become their rallying cry. Now in its second year, it features work from six small-press creators to watch.

---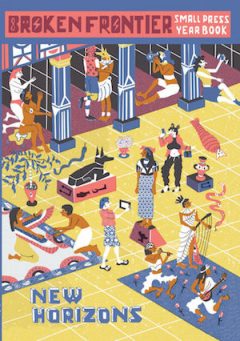 Publisher: Broken Frontier
Writer: Various
Artist: Various
Price: £7.99 from the Broken Frontier Store
---
Telling stories based around the topic of New Horizons, this year's six include cover star Ellice Weaver whose story Modern Fantasists continues to exhibit her sublime use of colour and design as seen in Something City. There is also: Jay Levang who creates a dark anime-infused tale about a circus and magic coins, which is a stunning opener; Rebecca Bagley whose beautiful story about green tea is dream-like ode to the restorative powers of the beverage when drunk by a bored office worker; and Emily Rose Lambert (whose pencil style we loved in a Castle In England) tells a Moby Dick-esque tale about a boy, his father and a whale. Finally, Bridget Deacon and Kim Clements subvert things with panel-less stories that offer something completely different – especially Kim's painted story Lanzarote Cat.
There are also offerings from Rachael Smith and Rozi Hathaway as well as Avery Hill regulars Steve Tillotson, Tim Bird, Edie OP and more. Whereas in previous volumes the established names might have eclipsed the newcomers, this time they more than hold their own to produce a wonderful selection of strips.
With this year;s Small Press Yearbook, the Broken Frontier team have created a perfect snapshot of the UK's small-press offerings for 2017, and this is definitely a fantastic introduction for anyone looking to embrace the artier side of things.


Author:
Alex Thomas
Alex Thomas is the Editor and founder of PIpedream Comics. He grew up reading comics in the 90s, so even though he loves all things indie and small press, he is easily distracted by a hologram cover.