This week's best of ComiXology Submit features: the second volume of King Bone Press' awesome music themed collection Bandthology; Kara Barrett's magical crime noir The Bargain volume 1; Gordon Rennie and PJ Holden's mysterious Dept. of Monsterology#1 and #2; and charming kids book Sunrise #2 about a cute monster in a cape.
Bandthology volume 2 (King Bone Press)

King Bone Press' Bandthology might just be our favourite digital comics anthology around. By only collecting together stories about bands and music it creates a very focused collection, but fortunately thanks to the wide array of genres on offer, one that is never boring. It's like a great compilation tape in comic form – there's esoteric indie like Dan Dougherty's Left To Write and Aaron Pitman's Band of Brothers,  angsty stadium rock like Jon Westhoff and Bobgar Ornelas's Farewell (which has an outstanding twist at the end) and there's also a bit of indescribable death metal horror monster action in Don Cardenas' Blood! Blood! Kill! Kill!, just to make things interesting! Just like a great mix-tape, some stories will resonate more than others, while some you might forget about until you dust it off some time in the future, however as a collection, Bandthology most definitely rocks our world!
Purchase Bandthology volume 2 from ComiXology
Dept of Monsterology #1 & #2 (Renegade Arts Entertainment)

As one team of intrepid scientists investigate mysterious creatures at the bottom of the ocean another are delving into the mysterious world of a Chinese undead army. These two groups make up the field teams of the Department of Crytozoology at Dunsany College (aka the Dept of Monsterology) a motley group of scientists, archaeologists and treasure hunters who star in Gordon Rennie and PJ Holden's fantastic pulp adventure series. It would be easy to make comparisons to Mike Mignola's B.P.R.D., which it is very similar in style to, but it owes more to the world of Arthur Conan Doyle's Lost World and very British adventure tales from the 1930s than it does Hellboy and co. With more of an emphasis on the science and treasure hunting side, rather than the supernatural and the occult, Rennie and Holden have created a superb slice of classic adventure action that will keep you utterly gripped for the whole of this series' 4 issue run.
Purchase the Dept of Monsterology #1 and #2 from ComiXology for £1.49/$1.99
Sunrise #2 (Teaceratops Comics)

Heather L Sheppard's utterly charming Sunrise is quite simply about a monster searching for the sun. The series started life as a picture of a monster in a cape on a cliff top and has evolved into this utterly sublime dialogue free kids adventure about the aforementioned monster as he goes off on little adventures. Sheppard's abstract cartoon style is utterly delightful and by only using one or two panels per page Sunrise has an incredibly strong sense of design, with the use of colour being absolutely breath-taking, as each page works so hard to get the simple story across. Although not a lot happens in this second issue in terms of narrative, apart from the monster making friends with a squirrel and rescuing it from a river, it is still an utterly compelling book and one which any self-respecting comic-fan should definitely be sharing with their kids (or someone else's if you don't have any of your own!)
Purchase Sunrise #2 from ComiXology for £1.49
PICK OF THE WEEK
The Bargain vol 1 (Kerfuffle Comics)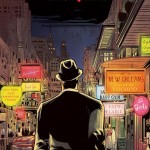 Kara Barrett's southern soaked crime noir begins with conman Jackson Connolly rescuing a girl on a crossroads from a bunch of rednecks by turning himself into a giant magical bear which pretty much sets the tone for this magic meets noir thriller. Jackson is also on the run from some rampaging hellhounds who are making sure he doesn't default on his deal with devil. As Jackson and his new found friend Lisette (the girl from the crossroads), head off to New Orleans in search of a way to break Jackson's deal we're introduced to a world of mysterious southern sorcery, sleazy back street burlesque clubs and tragic southern belles all of whom have been lured into selling their souls at the crossroads. By taking this world of 'southern mythology' and mixing it with elements from Greek myth and of course modern crime noir (the whole thing is set in the 1950s), Barrett creates a compelling and exciting tale that reads like a deep south version of DC Comics' Hellblazer, with plenty of magic and mystery in the bayou. This new collected volume comprises all the original ComiXology run of The Bargain, with some extra pages added in to help it hang together more coherently and with a paradigm shifting final act we can't wait for volume 2!
Purchase The Bargain volume 1 from ComiXology for £3.99/$4.99
Author:
Alex Thomas
Alex Thomas is the Editor and founder of PIpedream Comics. He grew up reading comics in the 90s, so even though he loves all things indie and small press, he is easily distracted by a hologram cover.