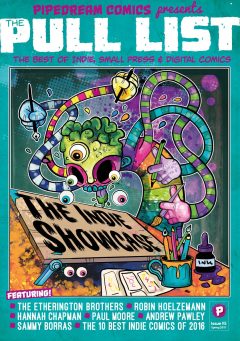 After making it's print debut at the True Believers Comic Festival, the new issue of our indie comics fanzine The Pull List is now available digitally as well!
It's an indie showcase special, putting the spotlight on 6 of the most exciting creators on the indie scene today. They include, all-ages aces The Etherington Brothers, Planet of Dameons artist Paul Moore, Curia Regis creator Robin Hoelzemann, Comic Book Slumber Party's Hannah Chapman, Queen of the fanzines Sammy Borras, and psychedelic superstar and king of the Galaxafreaks Andrew Pawley (who also provided is with an exclusive cover image!). We also run down the 10 best indie comics of 2016 as chosen by the readers of Pipedream Comicsin our recent Indie Comic of the Year poll!
You can purchase The Pull List #5 from our Gumroad store for just £0.99 so don't miss out!
The Pull List #5 is also available at Spa Town Comics in Leamington, and via Comichaus!