This week's must-read digital comics include the final chapter in the first story arc of Valiant's epic  Unity crossover, a spiritual and existential science fiction omnibus in Doug Rushkoff's Testament and a reimagining of a Victorian curiosity in Merrick The Sensational Elephantman.
Unity #4 (Valiant Entertainment)
Valiant's superteam crossover concludes it's first arc as Toyo Harada's super team turn against him and seek to help Aric of Dacia gain revenge for his imprisonment and re-establish his kingdom on earth as well as reunite with the X-O armour that bonded with Livewire at the end of issue #3. The great thing about this whole Unity crossover is that, unlike the Big Two's multi-series epics or periodic reboots, it feels as if this will have a lasting impact on all the characters involved as each character's action have direct relevance on the long term development of their respective series and won't be undone at any point in the future. Unity are set to go off in their own direction in the next issue for more traditional superhero fare, but this first four issue run has been as exciting and impactful as anything from the Big Two in the last few years.
Unity #4 is available from ComiXology in a digital exclusive edition for £2.49/$2.99
Testament Omnibus (Doug Rushkoff)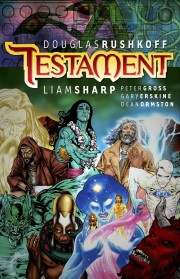 Douglas Rushkoff's Testament is a futuristic take on the bible, merging it's messages with near future science fictional allegories to create a multi-strand thought piece designed to inspire, confront and challenge in equal measure. Originally released via DC Comics' Vertigo imprint Testament has been given a digital omnibus treatment this week courtesy of ComiXology which features all four volumes for the price of $19.99. With mind-bending artwork from digital pioneers like Liam Sharp and Gary Erskine it is a truly unique work that many may not be aware of, however for fans of the tripped out existential work of Grant Morrison of the more heavyweight and spiritual works of Alan Moore then this is an absolute must-read. This is comics as intellectual and spiritual analysis backed up with eye-popping visuals and when it is done well there is nothing better.
The Testament Omnibus us available from ComiXology for $19.99
Merrick The Sensational Elephantman #1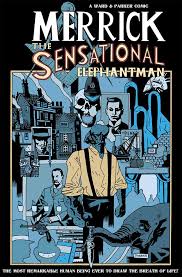 Tom Ward and Luke Parker's take on the infamous Victorian phenomenon Joseph Merrick sees him recast as an occult combatting superhero rather just a circus sideshow. It reads like Hellboy meets the League of Extraordinary Gentlemen and is heavily influenced by the work of Mike Mignola with Parker's strong angular lines, heavy use of shadows and graphic style giving the book a very recognisable feel. If you're a fan of Mignola's work you will either love Merrick, or regard it as a total rip-off, as it is very, very similar in look and feel. For us though, it was done in such a way to be a loving homage and at such a high standard that you couldn't help but go along for the journey – if you didn't know better you'd assume it was part of the Mignola universe. Ward's script takes in familiar themes from the world of Penny Dreadfuls and Victorian adventure books to weave an interesting back story for Merrick and give the character an emotional depth rather than rely on sensationalism for the first issue and there is more than enough to make us want to come back for more. Issue #1 has been released for free by Tom and Luke as a precursor to further episodes which will be funded via Kickstarter (which you can find here), but on first impression we would love to see these guys given the chance to finish their story as this is a really fun first outing for Merrick The Sensational Elephantman!
Download Merrick The Sensational Elephantman as a free PDF here. You can also follow them via Facebook or support them via their Kickstarter here
Author:
Alex Thomas
Alex Thomas is the Editor and founder of PIpedream Comics. He grew up reading comics in the 90s, so even though he loves all things indie and small press, he is easily distracted by a hologram cover.