This weekends must read digital comics in the Sunday Digest include Warren Ellis' new eco apocalypse series Trees from Image Comics, Ian Edginton and INJ Culbard's clock punk fairytale Brass Sun from 2000 AD and the latest instalment of slacker superhero series Knuckleheads from MonkeyBrain Comics.
Trees #1 (Image Comics)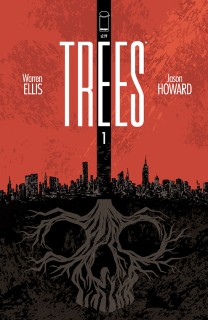 Warren Ellis' new creator owned series Trees features invading alien monoliths, ecological armageddon and a dystopian police state attacking its people with drone strikes all within the first half a dozen pages – in other words it's classic Ellis! The invading aliens are the titular trees, gigantic rune cover monoliths that tip the balance of the planets Eco system with scant regard for mankind and civilisation by planting themselve in major cities and spewing out toxic sap. There's a more than subtle nod to classic sci-fi like 2001 or Day of The Triffids in Tress along with an almost Gaian feel thrown in for good measure as the trees feel like earth rebelling against its hostile invaders despite them being from outer space! The brilliant inversion of the 'man as Eco terrorist and planet destroyer' story is the true stand out though with this first issue focusing mainly on world building, introducing us to the trees and the world they are destroying, but inevitably there is also a sub plot that sees scientists investigating a mysterious black flower and its links to the trees as a possible way to get rid of them. Ellis' script is as packed full of dystopian detail and bleak techno message as you would expect, while artist Jason Howard does a superb job of realising this fantastic world which Ellis has created. For fans of it's dystopian sci fi (and Ellis' work in particular) it is an absolute must read with Ellis on fantastic form sowing the seeds for a another stunning series. And for everyone else, be sure to check this out as it is set to be another modern classic and guaranteed to be on a lot of best of lists at the end of the year.
Purchase Tress #1 from the Image Comics Digital Store for £1.99/$2.99
Brass Sun #1 (2000 AD/ Rebellion Publishing)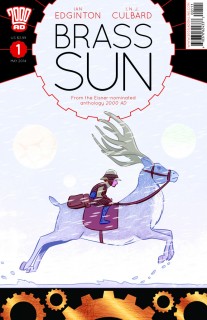 At the heart of Ian Edginton and INJ Culbard's clockpunk fairy tale is the Orrery a clockwork universe where the sun is slowing dying. On one of the planets that revolves around it is our heroine, Wren, lives with her uncle (a retired bishop), whose observations about the universe put him at odds  the established order of tyrannical cog worshipping bishops who run the world. As Wren escapes the bishop's clutches and sets about helping to put things right she travels to the centre of the Orrery and meets a mysterious band of monks who maintain the worlds. Published by UK Comics stalwarts 2000 AD this is a fantastic example of classical story telling and epic world building that reads more like a  piece of classic literature than a comic book from the company behind Judge Dredd and co. With its plucky female protagonist it reads like the books of Phillip Pullman and with Culbard's sublime European infused art it creates a very special mix of timeless story and beautiful imager that feels truly unique in the world of comics right now. If you aren't convinced then just check out the opening spread of the clockwork universe in all it's glory and if that doesn't make you want to read on then nothing will!
You can purchase Brass Sun #1 as a digital download from the 2000 AD Online Store for £2.49 
Knuckleheads #6 (MonkeyBrain Comics)
Hot on the heels of their epic victory against a rampaging monster last issue, it's time for our favourite slacker superhero Trevor K Trevinski to put in some training time and master the cosmic powers gifted to him by the crystal fist in the latest instalment of Brian Winkeler and Robert Wilson IV's slacker superhero series Knuckleheads from MonkeyBrain Comics. Packed full of in-jokes and pop culture references that take in everything from superheros, to hipsters to afternoon specials and lassie, it's a another rip roaring gag packed episode of this most unconventional of superhero tales. (There's also a superb cover homage to fellow MonkeyBrainer Gabe Hardman's Kinski.) While other post-modern superhero stories focus on the gritty angst side of their hero, Winkeler and Wilson focus on the pure absurdity of it all, and with the clueless nature of Trevor and co they create a perfect antidote to those other angsty superhero who are looking to find deeper meaning in the fight between good and evil. With a big time twist at the end that looks set to take the Knucklefriends on exciting new adventures, Knuckleheads is without doubt our favourite MonkeyBrain title of the moment.
Download Knuckleheads #6 for £0.69/$0.99 from ComiXology here
Author:
Alex Thomas
Alex Thomas is the Editor and founder of PIpedream Comics. He grew up reading comics in the 90s, so even though he loves all things indie and small press, he is easily distracted by a hologram cover.