2015 is shaping up to be a real 'Summer of Superheroes', but what if you're tired of the same old offerings from the Big Two? Super! Volume 1 tells the rather familiar tale of a superhero team as they attempt to make their mark on the world full of other costumed heroes. But can this indie sensation defeat the heavy hitters of superhero team books or will this be a title which cannot be saved, no matter how many heroes are in it?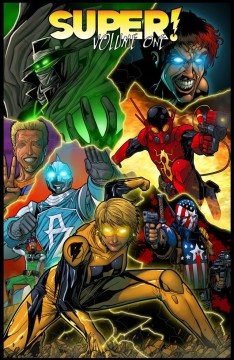 ---
Publisher: Unlikely Heroes Studios
Writer: Zachary Dolan, Justin Piatt
Artists: Zachary Dolan, Justin Piatt, Laurie Foster, Tara Kappel, Everardo Orozco, Estela Yanez, Ludwig Olimba, Erek Foster
Price: £8.99/$9.99 from ComiXology
[yasr_overall_rating size="large"]
---
Super! Volume 1 tells the story of superheroes in the city of Cosmopolis, told from the perspective of a young, seemingly b-list superhero team formed and led by arrogant mad scientist Max Archer. His team, made up of Superheroine Blitz, smartass Fire-Ant, self-presumed womaniser the Streak, drunkard the Insatiable Lush, mysterious Silhouette, extreme vigilante Blind Death and oddball android the Awesome Man, continually attempt to save the world from super villains, such as master criminal the Black Atom and his fearsome five,  and monsters alike while also attempting to lead their own lives and maintain their secret identities.
The book mainly focuses on Blitz as she attempts to gain validation from the world's premier superteam, the People's Champions, while also keeping her secret identity from boyfriend Adam, who also happens to have a secret of his own.
Zachary Dolan and Justin Piatt obviously have a great affection for the superhero genre with Super! using a lot of all too familiar tropes from traditional superhero books. However, they have still managed to write a series which pretty original and is a truly hilarious read – with lines and events on almost every page which will have readers laughing out loud.
This sense of humour is probably the best thing about Super! as it's content feels like a more toned down version of Garth Ennis' The Boys which, given that books more hardcore story lines, actually makes Supers a much more light-hearted and, ultimately, better read. The main characters are in no way 100% superheroic, with each character stealing the spotlight at times with seriously over the top reactions to situations. There are no true stand outs here as every hero and villain who appears shines. The story is probably the title's weak point as it does struggle to maintain a nice flow with the overall narrative, but that is a small issue, especially when you spot references to Back to the Future and the 1966 Batman movie which will make you grin just a little more.
Then, there is the art, which also doesn't skimp on the fanboy pop culture nods, specifically one issue which contains an elder superhero who bears an uncanny resemblance to the late Christopher Reeve. Of course, these nods, like with the writing, are just a part of what makes the book great, as Dolan, Piatt et al have produced loud and vibrant, traditionally superheroic style comic from start to finish which is incredibly high quality throughout.
---
"With terrific characterization and fantastic art, the creative team have made Super! into a book which could seriously contend with the more established titles on shelves in terms of enjoyment. So if you want a high quality, enjoyable superhero team book which is not from the big 2, then pick up Super!, you will not regret it."
---