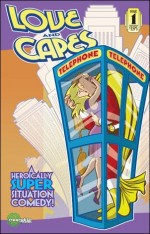 In the macho world of super hero comics, it's easy to forget that back in the Golden Age, romance stories were just as popular as the action adventure stuff. Even the greats like Jack Kirby cut their teeth doing romance books, but in the modern day they've become something of a rarefied breed. Thank goodness then for Love and Capes which combines the kind of modern superhero stories we know and love with a healthy measure of romance, and a generous dash of good old fashioned gags. Previously available online at LoveandCapes.com or in print from IDW, it is now released on ComiXology.
Love and Capes follows the adventures of Mark (aka super hero the Crusader), and his new girlfriend, book shop owner Abby. But unlike your trad superhero books, Mark reveals his secret identity to Abby in the first chapter, which allows writer/artist Thom Zahler to poke fun at  the traditional obliviousness of other superhero girlfriends. (There's no Lois and Clark style stumbling around the fact our hero's girlfriend can't recognise him when he takes off his glasses here!) Taking a knowing (and loving) swipe at all manner of super hero cliches it focuses on the blossoming relationship between Abby and her new super-boyfriend, covering everything from super-powered ex's to secret origins and weaknesses, making for a fantastic, hilarious read.
To find out more about Love in Capes and it's new digital lease of life, I got in touch with Thom Zahler and asked him just how it felt to have a whole new audience about to get to know his characters via the iPad?