The latest selection of fantastic indie comics, hand picked by our intrepid reporter Olly MacNamee at last month's True Believers Comic Festival, features: the latest issue The London Horror Comic, John Pearson's artbook Dreadline, and Wrench Productions' Bizarre Dimensions.

London Horror Comic No. 7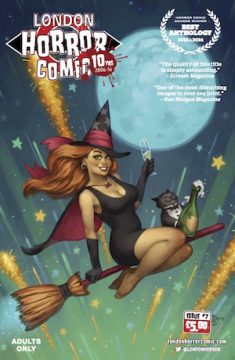 Writer: John-Paul Kamath Art: Drew Moss and Dean Kotz Cover: Matt Dixon Cost: £8.00
Celebrating 10 years of independent publishing is quite an achievement for any small press comic, so it's hats off to John-Paul Kamath and the gang for getting there. A belated happy birthday from all of us here at pipedreamcomics.co.uk, John-Paul.
And, when reading this most recent issue of London Horror Comics, you can see how he's done it. John-Paul's comics have always been very professionally presented, but this issue must surely be the best yet. Hell, the cover alone is worth the price of admission, provided once again by Matt Dixon, with a back cover sumptuously supplied by rising star of Titan Comics, Simon Myers, bookending two meaty, full-length stories beautifully illustrated by Drew Moss and Dean Kotz (inks). The first strip, Colder, has something of the Sean Murphy about it, which is high praise indeed, as a huge Murphy fan, while the second story, Kindred, echoes with the influence of Sean Phillips, to give you all an idea of the style and quality of the art within the book's interior pages.
Without, of course, giving too much away, both focus on a main female protagonist, with the hapless heroine of Colder short on rent money and short on love. Her desperation, and a real fear of losing her squalid flat, drive her to the dark side and nefarious necromancy of a sort. A rather sensual story, all in all, which certainly means it it's 'adults only' warning on the cover. A story of sex, drugs, but no rock and roll.
Kindred, to put it one way, is a cautionary tale for anyone who thinks that no doesn't mean no, and as such, is a dark tale of loneliness and the desire to connect. A desire that leads to bad choices and even worse consequences. But, this is a horror comic, and so what one thinks is a story dealing with the all too real horror of rape, turns out to be something more supernatural and satisfactory in its telling. Both together, the total page count is over 50, and all in full colour, courtesy of Hi-fi Designs.
Here's to the next ten years!
You can purchase London Horror Comic No. 7 from the londonhorrorcomic.com website or catch John-Paul at comic cons across this year
Dreadline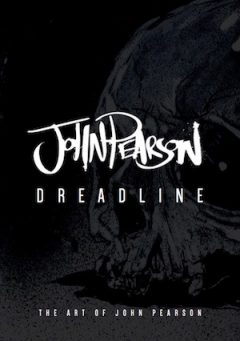 Art: John Pearson Cost: £10.00
This is something of a curio, rather than a comic, as we now take a loving look at the art of upcoming artist, John Pearson, who illustrated Beast Wagon (with the final issue imminent, I am reliably told) in his artbook, Dreadline, a 48 page selection of work by the artists from 2015 – 2016.
From the work he has produced on Beast Wagon, with writer, Owen Michael Johnson, I knew to expect some photo-realistic pieces, but what I also got was the amazing work he's also produced for other people. His imagining of a poster for the Jodorowsky documentary charting the creator's time dreaming of filming Dune is a wonder and a stand out piece for me, at least. No doubt, you'll all have your favourites, such as the hyper-detailed art for band, Gentlemans Pistols (sic), or Pearson's Leatherface, maybe? It even includes an interview with PM Buchan to round off this slight but bright artbook/magazine.
Dreadline is available on the artist's website here
Bizarre Dimensions (Wrench Productions)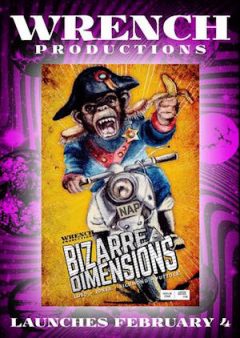 Writer: Cliff Jones Art: Grayham Puttock (Bananas) and Andrew Richmond (Brown Out) Cost: £5.00
With something of a cult following in real life, Mr Lobo was an inspired choice of narrator and gatekeeper, so to speak, when it came to finding a voice for this bizzaro comic. A mixture of The Twilight Zone cross pollenated with a UK sense of eccentricity, this debut issue offers up two stories, both written by Cliff Jones.
The first, Bananas, illustrated by Grayham Puttock; on one level is the sad story of a dying tradition; the travelling circus, brought down over the decades by a number of different reasons, but on another level, it imagines what would come of these travellers and tradesmen and women who know nothing else but life on the road. This is very much a story of adapt or die and the fine line work Puttock provides to the art gives dimension, tone and life to the few characters it deals with.
The second strip, Brown Out, follows the life of an ordinary couple, who have to deal with an electrical outage – the brown out of the title – while all around them their neighbours are behaving in an odd manner. After all, who goes on holiday in the middle of the week and leave their dog abandoned? Do they know something we don't? Well, there's only one way to find out: go buy a copy of issue no. 1 and find out for yourself.
This comic debuted recently at the Cheltenham True Believers comic con and I was happy to snap up a copy from this first run, limited to only 100, and all individually numbered and sporting one of a kind sketch within it's pages. That's some marketing gimmick, and it works, making each of the first 100 issues truly unique. Not many comics can boast that and be truthful.
A unique comic, with bizarre tales for the unhinged reader in all of us!
Look out for Bizarre Dimensions No. 1 at other cons, across the comic con season and beyond
Author:
Olly MacNamee
Olly MacNamee teaches English and Media, for his sins, in a school somewhere in Birmingham. Some days, even he doesn't know where it is. Follow him on twitter @ollymacnamee or read about his exploits at olly.macnamee@blogspot.co.uk. Or don't.