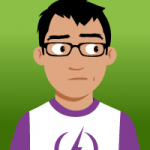 Mixing the world of web comics, iOS apps and movie snobbery, Multiplex is the brain child of comic artist Gordon McAlpin and sees his hit webcomic released on the iTunes Store as an iPhone app so you can read the adventures of his movie loving dup Kurt and Jason wherever and whenever you are. Keen to find out more about this innovative approach to self publishing we contacted Gordon to get the lowdown on the secrets to being an app-based digital comic publisher and also the correct etiquette for movie going.
Tell us a bit about where the inspiration for Multiplex came from? Have you worked in a movie theatre or are you just a big movie fan and saw people like Kurt and Jason? 
GM: Like a lot of ideas, Multiplex gestated for a long time. A buddy of mine, Kurt Bollinger, had worked at a movie theater for several years, and one night in my early twenties, I was complaining that I wanted to draw a comic about something but couldn't come up with a story I wanted to tell. He suggested I do something about a movie theater. At the time, I was in an "epic-length graphic novel" mindset, and I couldn't imagine how to do something in that format about a movie theater, so I dismissed it, saying, "Nah, that'd be stupid."
A few years later, I had totally forgotten he'd suggested it to me and came up with the idea of doing an animated web short called Multiplex, but I never managed to learn Flash, and the script never really came together, so I put it back to bed.
A few more years later, I was about to launch a website for Stripped Books, a non-fiction comic strip adapting book-related events (author appearances, a book launch party, that kind of thing) into comics. I had done a handful of them for Bookslut.com, but I took it to its own website for a variety of reasons…
In addition to keeping things more timely, I wanted to have a more regularly updating "back-up" feature to keep people coming back more often. I immediately realised Multiplex was perfect for that. It didn't need to be an ongoing story. Timeliness was key here, too: I could watch a movie or see a trailer, do a strip about it, and post it online in less than 24 hours. You can't do that in print. Even Doonesbury has a lead time of ten days, which is insanely fast compared to most newspaper comics. That's old news in the movie business!
Soon after Multiplex launched, it became way more popular than Stripped Books.  Amusingly, Multiplex has since evolved into an ongoing narrative, of sorts — sort of a hybrid between a comic strip and a serialized graphic novel. There is (now) an overall arc to the whole series, which will wrap up in a few years. So my obsession with epic narratives prevailed in the end.
Is any of it based on real life or do you have friends who are like the main characters?
GM: Kurt in the comic strip is very loosely on Kurt in real life, Melissa is very loosely based on his girlfriend at the time, and Jason is very loosely based on myself in my twenties — but ultimately, all of the characters are me, especially the unlikeable ones. It's not an autobiographical strip at all (I've never worked at a movie theater), but bits and pieces — sometimes large ones — are inspired by or stolen from my life and other peoples' lives, chucked in a blender, and then (hopefully) transformed into something interesting or funny.