We've a mixed bag of titles in this week's indie comics round-up featuring: superheroes on a mission for revenge getting caught up in a deathmatch tournament in Ch05en: Grizz; warring south London families in throwback crime drama Spiral; wholesome family superhero adventures in Start Up; and Tarantino-inspired grindhouse violence in Ertito Montana's Street Tiger.
Ch05en: Grizz
​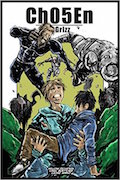 In the world of Ch05en mankind has isolated a gene which makes people exceptional, whether that is a rock star, Fortune 500 CEO or inevitably for a comic book, a superhero. These capes end up working for the Global Heroes Society which is where we meet our hero Grizz and his team who have just been ambushed by his former protege Ripsaw and left for dead. Looking for revenge and to close off his final case before retirement Grizz enters his team into a Running Man-style deathmatch tournament which ends up resurrecting some past ghosts as they hunt down the mastermind of this event the elusive Nocus Moapt. Writer William Dickstein has created a well thought out and comprehensive world for his characters that exists in multiple eBook as well as this debut graphic novel. His solid roster of characters have a diverse set of looks (with Octopus Man Kush being a particular stand out) as well as a depth that you don't often get in indie cape books. Having Grizz attempting to avenge his lost love, who happens to be a man, is an interesting take on this traditional story and although it leads to a slightly unfulfilling resolution at least makes the characters and world feel like something more substantial. (Although it doesn't feel quite as well-developed as Joe Glass' The Pride in this respect)
Purchase Cho5en: Griff for £6.89 from Amazon
Spiral #1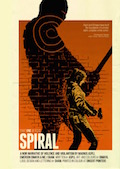 ​If Ed Brubaker and Sean Philips wrote a 1970s style vigilante thriller set in present day South London, then it would have to go a long way to beat Magnus Aspli, Nic J Shaw and Emerson Dimaya's Spiral. Centring around two families on either side of the law. One is a bunch of gun running thugs where the son is attempting to outshine the father. The other a paramedic son, police officer daughter and paraplegic father with a secret – he used to be a masked vigilante called The Watcher. With his secret uncovered the impetuous sister takes matters into her own hands when the more stoic son decides not to follow in his fathers footsteps. Despite being set in the present day, the whole thing oozes vintage crime thrillers, from the retro style cover to the muted colour palette. Aspli has created a really interesting group of characters who are at odds with each other but heading for an inevitable showdown, and artist Emerson Dimaya brings a shadowy yet stylish realism to every page in the same way that Philips does in Criminal. This 4 issue run is being kickstarted issue by issue, with issue complete and issue 2 on it's way later in the year.
For more information visit spiralcomic.tumblr.com
Start up #1.1 (Sit Comics)
​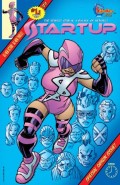 From Sit Comics, the publishers of superhero body swap series  The Blue Baron, comes Start Up  another all-ages throwback series aimed at a young superhero audience deprived of wholesome brightly coloured action and adventure. Renee is an overweight single mum who is given speedy super powers when she takes an experimental weight loss drug. It's an interesting take on the Flash model or an inverse Captain America and has the same sense of light-hearted fun and energy that was on show in the Blue Baron. It is also great to see a female, over weight African American hero (albeit one who looses that went when powered) to give the comics world a bit of diversity. Although the premise feels very similar to DD in Michael Oeming's Victories or Mark Millar's recent MPH those books are at the complete opposite end of the comic book spectrum and for the audience it's aimed at Start Up is another really enjoyable read that is off to a flying start!
Purchase Start Up for £1.49 from ComiXology
Street Tiger
​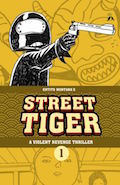 From Ertito Montana, one half of the creative team on the excellent Sicarios which appeared in Aces Weekly volume 19, Street Tiger is a homage to the grindhouse world of 70s and 80s action movies as well as it's current king, Quentin Tarantino. With a simple, low-key, hand-drawn style, it has a raw energy and pace to it, especially in the action scenes, which as you expect are head-crackingly violent. The story itself sees the enigmatic vigilante Street Tiger beat up some mysterious guys in a diner before foiling a laundromat robbery. Neither reveal much about an over arching plot, however the arrival of a pair of cops to investigate hints at some long-term story. What it does give you though, is plenty of action and violence as well as the rapid fire dialogue of Tarantino – it even includes a 'Royale with Cheese' style chat about nothing, that sees the cops discussing where hot dogs come from! Although it may lack a bit in depth, the Street Tiger himself is a well designed lead and feels like a compelling enough character to carry the book in the same way that Chuck Gibson's Revenger does with a raw simplicity about its story telling. If you enjoy this, be sure to check out Sicarios too!
Purchase Street Tiger #1 for £1.49 from ComiXology
Author:
Alex Thomas
Alex Thomas is the Editor and founder of PIpedream Comics. He grew up reading comics in the 90s, so even though he loves all things indie and small press, he is easily distracted by a hologram cover.