Our round-up of the week's must-read indie digital comics in the Best of ComiXology Submit features: Quinton Miles slacker sci-fi book Xeno Trip #6; a new take on Victorian sideshow star Joseph Merrick in Merrick: The Sensational Elephantman; Welsh Zombie book The Stiffs #1 and the truly unique Sockford from Russell Ihrig. 
Xeno Trip #6 (QAM Comics)

Quinton Miles and Daniele Cosentino's slacker sci-fi comedy is a 21st century take on the Connecticut Yankee in King Arthur's Court, with two goofball buddies transported to a mysterious alien planet after partying a bit too hard one night. Embarking on a new story arc this week, Xeno Trip #6 follows on from the dramatic events of issue #5 which saw Deron sent back to Earth by the evil Zolie after he and Cody had agreed a peace treaty for the planet. Back on earth it's up to him to explain Cody's absence to his parents, but more importantly to his grandfather – whose secret booze got them in the predicament in the first place, (and who also seems to be in on the whole scenario as well). This mammoth new issue does a great job setting the scene for the next storyline, and is also a great jumping on point for new readers. With it's goofy humour and pop culture in-jokes, plus it's great use of ComiXology's Guided View Native technology, it is one of the most entertaining and hilarious books around. If this is your first time checking out King Cody of Bennet, be sure to give the collected edition a try as well!
Purchase Xeno Trip #6 for £0.69/$0.99 from ComiXology here
Merrick: The Sensational Elephantman #1 (Tom Ward)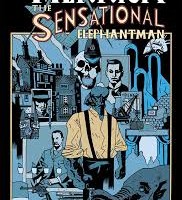 This re-telling of the life of Victorian sideshow phenomenon Joseph Meyrick (aka the Elephant Man) looks and feels like it could be a forgotten issue of Mike Mignola's Hellboy thanks to the dark shadowy artwork of Luke Parker and supernaturally infused script of Tom Ward. This first issue sees us introduced to our unconventional hero and given a look into his back story as he is discovered and exhibited in the Penny Gaff, before travelling across Europe and being robbed and abandoned by his manager, only to return to London and the supposed safe haven of the hospital of Dr Treves. Ward's script is packed full of Victoriana, along with a generous does of  supernatural occultists, and takes the original story of Merrick and adds in some extra comic-style flourishes. The book looks great thanks to Parker's Mignola-inspired artwork with a fantastic eye for the design of a page, and should be an essential read for any fan of Hellboy or B.P.R.D.
Purchase Merrick The Sensational Elephantman for £0.69/$0.99 from ComiXology here
Stiffs #1 (Smoking Simian Sequentials)

In the darkest depths of rural Wales zombie hunter Don and his monkey companion Kenny McMonkey are hunting down the undead. Just when you thought the zombie genre was running out of steam, writers Drew Davies, Joe Glass and PJ Montgomery give the undead a kick in the nuts with this very British… very Welsh… take on things. Don is far from your all action hero as he attempts to tackle the undead hordes with the help of his drinking, smoking monkey buddy Kenny, while his friends back in the pub speculate on just what he gets to at night when he's not with them. It's brilliantly crude and features fantastic artwork by Gavin Mitchell which reminded us of recent Image Comics alien drama Saviors. With a supernatural twist at the end that makes the zombies more than your usual undead cliches, Stiffs is a real shot in the arm for a genre which is slowly shuffling along and is a must for any fans of the undead looking for something new.
Purchase Stiffs #1 from ComiXology for £1.49/$1.99 here
Pick of the Week
Sockford part 1 (Russell Ihrig)

Russell Ihrig's brilliantly original and totally hilarious tale of a teenager who's 'solo activities' combine with an electrical storm strike on his washing machine to create a new sock-based life form is one of the sweetest, funniest books we've read in ages – it's the indie Sex Criminals! Don't be put off by the slightly crude premise as this isn't another dirty, frat boy book full of unfunny jokes about self abuse. It's a delightfully gentle tale of a boy looking for acceptance and dealing with the perils of growing up, who just happens to have created a new life form in a tube sock. If anything this first tale is more about the fears of teen fatherhood than it is a tirade against teenage 'alone time' and as such feels like a completely new and exciting look at a very real-life topic. With a second part coming soon (forgive the pun!), Ihrig has created something truly unique and we cannot wait to see what appears out of the washing machine next!
Download Sockford part 1 from ComiXology for £1.49/$1.99 here
Author:
Alex Thomas
Alex Thomas is the Editor and founder of PIpedream Comics. He grew up reading comics in the 90s, so even though he loves all things indie and small press, he is easily distracted by a hologram cover.