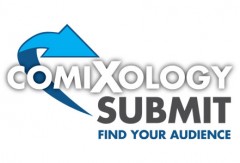 This week's Best of ComiXology Submit features: John Allison's trio of student misfits in Giant Days #3; a tale of romance and inanimate objects in Josh Trujillo's Love Machines #2; surreal cyclical sci-fi in Scooter; and the most bizarre historical bio you'll ever read in The Unauthorized Biography of Winston Churchill: A Documentary #1.

Love Machines #2 (Lost His Keys Man Comics)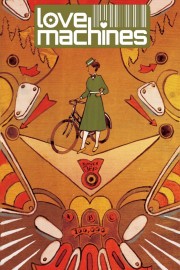 Don't be put off Josh Trujillo's Love Machines when you hear that it is about love and machines. It's not about Japanese sex robots, it's a delightfully charming and quirky series of short stories based around people's relationship with machines. In this second issue that means the tale of how a simple push bike impacts on the life of a frontier family in the old west. While in the second half it's all about the fading glory of an ageing pinball champion. Both have different artists and so this novel idea makes for a really interesting way of collecting together two disparate stories. After the slightly quirky mix of manga automatons and lovelorn vending machines and microwaves in issue #1, this feels like a much more balanced second issue, so if Josh can retain this level of quality in subsequent issues then Love Machines will definitely be a title worth falling for.
Purchase Love Machines #2 from ComiXology for £1.49/$1.99
The Unauthorized Biography of Winston Churchill: A Documentary #1 (Vices Press)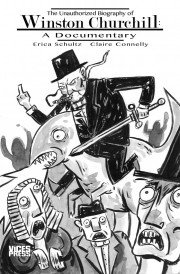 Erica Schultz and Claire Connelly's take on the formative year's of Britain's greatest war time leader doesn't so much play fast and loose with historical accuracy, as completely abandon it in favour of a truly unique and delightfully daft idea – Churchill + dinosaurs! If you were after a historically accurate tome then forget it as this version of the Churchill story sees Winston go back in time in H.G Well's Time Machine in order to bring back the greatest military minds of the past – Bill and Ted style! Unfortunately he ends up back in pre-history in a world full of friendly velociraptors where he becomes their leader and leads them to victory over the evil T-Rexs before bringing them back to the present. Told in a brilliant quirky and abstract style you can't help but enjoy The Unauthorized Biography of Winston Churchill as every page is more brilliant and bizarre than the last and we guarantee you won't ever read a book about Churchill like this again.
Purchase the Unauthorized Biography of Winston Churchill from ComiXology for £1.49
Scooter (Brent Boates)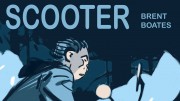 This brilliantly realised cyclical sci-fi story from writer/artist brent Boates is about a boy on a scooter who ends up being cornered by government troops only to be revealed as an alien and then be operated on in a lab before escaping and going on the run. Oh, and there's no dialogue! This brilliantly surreal piece of trippy sci-fi picks you up and takes for a completely unexpected ride that when you get to the end you want to get right back on again and do it all over as you need to work what the hell just happened! With a rough daubed art style it may look half finished but Boates panels have a real sense of energy and excitement that keeps the momentum going from one scene to the next. With a cyclical conclusion that ends as soon as it begins Scooter is one ride you definitely don't want to to miss out on.
Purchase Scooter from ComiXology for £0.69/$0.99
PICK OF THE WEEK
Giant Days #3 (Scary Go Round)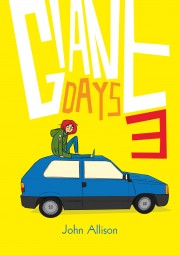 John Allison's tale of three uni friends was written as a 'plan b' book after a crisis of confidence in his main series Bad Machinary back in 2011. However if he carries on producing books of this calibre then he want to consider making this his 'plan a'! Giant Days follows the adventures of Susan, Daisy and Esther three uni students who may conform to the traditional stereotypes of the 'the head girl', 'the outsider' and 'the nerd', but are so much more than that. Allison has created such a superbly real set of characters and a thoroughly believable world that they read just like real people and are as familiar as any real-world friends you may have known in your student days. Of course, this is still a comic and so there are the odd flights of fancy to a make the narrative more exciting – in this issue Susan and Daisy join the Indie Society while Esther deals with her recent break-up by delving into the world of Black Metal! While the first issue got caught up with a rather unnecessary Scott Pilgrim-esuqe night club beat-em-up scene, issue #3 has settled into a much more grounded style, with a story that was reminiscent of both Posy Simmonds and also Terry Wiley's brilliant Verity Fair. All of which means a really fun book about three student girls has now become an utterly brilliant piece of story telling that, like a gang of great mates, we hope we'll get to see again very soon!
Purchase Giant Days #3 from ComiXology for £1.99/$2.99
Author:
Alex Thomas
Alex Thomas is the Editor and founder of PIpedream Comics. He grew up reading comics in the 90s, so even though he loves all things indie and small press, he is easily distracted by a hologram cover.