The Georgian city of Bath is usually associated with the literary stylings of Jane Austen and the architectural grandeur of Beau Nash than it is the world of comics and sci-fi, but that's all about to change with the launch of the first ever, 'Bath's Comic and Sci-fi Weekender' on September 28th and 29th. The brain child of Steve Causer, owner of Bath's American Dream comic shop, it's a two day event that is set to see the quiet West Country city, taken over by comic and sci-fi fans, cosplayers and more from all over the UK with guest appearances from some great names from across the world of comics and sci-fi, as well as workshops, puppet shows and more. To find out more about this fantastic new event, happening right on our door step, we got in touch with Steve to get the lowdown.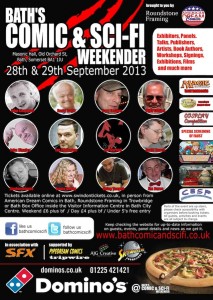 What inspired you to set up a comic and sci fi convention in Bath
SC: It all started from a conversation with Mike and Jan from Roundstone Framing who put on a Sci-Fi Extravaganza in 2012 in Bath, and were keen to do something this year. It sparked the idea that nothing like this had been done in Bath before so lets give it a go and see where it leads…. lets just say it seems to have grown and grown!!
What do you think Bath's Comic and Sci-Fi Weekender offers that the bigger ones don't? Why should folk come to Bath?
SC: Smaller events like these allow you to get a bit more up close and personal to guests which is always a bonus.  The city is beautiful and well placed to get to, so if you're coming for the day or the weekend you can pop into Bath itself as well as coming to he convention. But of course you will probably be too wrapped up with all that is going on at the event. We also wanted to ensure that there were things to do for all the family. Workshops, comic creating, exhibitions, panels, films and more, so you could fill your day with things that you won't see elsewhere.
Which big names have you got coming in and what will they be up to on the day?
SC: From the world of sci-fi we have Rusty Goffe from Star Wars, who is always great to talk to and will be signing and meeting people. Also from Star Wars we have John Chapman who is also the author of Jonnie Rocket books and he'll be talking about these as well as involved in a workshop. From the world of comics we have Mike Collins, Gary Erskine, Dylan Teague, David Roach and John Higgins all attending, and you can catch them at various panels over the weekend as well as doing signings.
Pipedream Comics is all about digital comics on the iPad, as a comic shop owner how do you feel about the growth of digital comics? Are more comics readers a good thing overall (especially for conventions) or is digital a bad thing for bricks and mortar stores?
SC: Always an interesting question, and to be honest we have seen a rise in people downloading, more than I expected. They seem to be mainly downloading titles they would not buy so trying out other books, which isn't a bad thing. I cannot see online killing print as it is just not the same, but at the moment a good compliment and having more awareness of the art form is a big bonus full stop.
What are you looking forward to most on the day and what should people make sure not to miss?
SC: The Puppet Theatre (see listing below) – not only are they running workshop where you can create your own puppet superhero and have it appear in a film on the Sunday… BUT they are doing a specially commissioned show on the Saturday – Superheroes, Bath, Puppets, thats all I can say!!!
If you could have a dream lineup of guests for next year who you want to invite?
SC: Tough one as there are loads of people who we all want to see. I think it is always nice to get guests that the fans like, so it would be nice to hear from others to see who people would want to come. Personally I would like to get some Power Rangers along as my son loves them and we watch them almost every day. Comic Guests for me would be Neil Gaiman, he came to Bath this year, be great to get him back next!!
Bath's Comic and sci-fi Weekender is being held in the Masonic Hall on September 28th and 29th 2013, for more information visits www.bathcomicscifi.co.uk or check out their Facebook page. Tickets are available now or on the day for £4 per day or £6 for the whole weekend.

If you're interested in going, here is a rundown of all the events happening over the weekend…
Panels and Talks
Saturday
12pm breaking into comics
1.15 SFX working in magazines
2.15 Exclusive Superhero puppet show
2.45 Star Wars Panel
4.00pm Jim Burn
Sunday
12pm TBA
1.15pm Tripwire panel with comic creators
2.15 Film Making with Lightworx Panel
3.15 Puppet Show (weekend film creation)
Events
Saturday
10.30am – 11.45am – Panel Room 1st floor
Magic the Gathering Games
All day – Library top Floor
Puppet Workshops
All Day – Small Room 2nd Floor
Comic Book Slumber Party – create, talk and meet other small press creators
4.00pm Cosplay Competition – Main room
5.30pm FAUST silent movie – Panel Room
1926 silent horror film Faust will be shown with live music accompaniment
Sunday
10.30am – 11.45am – Panel Room 1st floor
Magic the Gathering Games
All day – Library top Floor
Puppet Workshops
All Day – Small Room 2nd Floor
Comic Book Slumber Party – create, talk and meet other small press creators