One of the great things about digital comics is that they aren't constrained to a particular page size – unlike their printed predecessors. As a result a whole host of superbly innovative and exciting digital comics have been made even more inventive thanks to the use of landscape orientated pages. Here are 10 of our favourite landscape oriented digital comics…
1. The Private Eye (Panel Syndicate)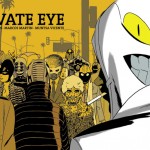 Brian K Vaughan and Marcos Martin's pay-what-you-want digital comic breaks the rules in every respect – not just page orientation! From its DIY publishing ethos and innovative payment structure, to its superb artwork and super smart story. Artist Martin clearly revels in the new found space the landscape orientation gives him as it lets his imagination go wild when coming up with stunning scenarios for the truly unique characters and situation that BKV creates in this sci-fi crime noir whodunit. One of the most inventive and original comics around.
The Private Eye #1-5 are available from panelsyndicate.com for a price of your choice.
Read our review of The Private Eye #1 here
2. Treatment Tokyo (Madefire)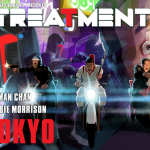 Dave Gibbons' dystopian series about a reality TV show where criminals are hunted down for entertainment comes to us via  the Madefire app, where it truly makes the most of the motion book publishers unique brand of digital comics. With series based all over the globe it is Treatment Tokyo which stands out  with an action packed pace that fizzes with excitement in every instalment. Because artist Kinman Chan comes from an anime background he is not as constrained by the traditional panel based approach of print comics and so his layouts leap out of the screen with the camera swooping around the action like the best Hollywood movie, making Treatment Tokyo an incredible, adrenaline filled thrillride of a series!
Treatment Tokyo is available for free from the Madefire app.
Read our review of Treatment Tokyo issue #3 here
3. Moth City (Thrillbent)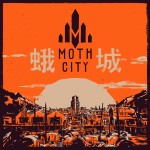 Mark Waid's Thrillbent imprint have really pioneered digital story telling with series like Insufferable, The Eighth Seal and The Damnation of Charlie Wormwood. However for us, the true star of the Thrillbent stable is Tim Gibson's pulp adventure turned zombie horror series Moth City. Gibson's innovative use of sequentially appearing panels and text make the most of the landscape screen estate giving dialogue heavy scenes as much tension and excitement as those involving bone-crunching action. Combine that with a 1930s set story of a Chinese island infected by a crazed general who is at loggerheads with an equally unhinged American governor while the island descends into carnage around him and it makes Moth City one of the smartest and most engaging digital comics available!
Purchase issues #1-5 of Moth City from ComiXology for £0.69/$0.99 per issue or visit www.thrillbent.com for free weekly updates.
Read our exclusive interview with Tim Gibson discussing Moth City here 
4. Valentine (Image Comics)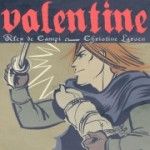 One of the unsung pioneers of digital comics, Alex De Campi's Valentine was released in 2009 and set the template for many of the titles we see on this list. Originally released as a monthly Creative Commons series, it soon found it's way onto ComiXology where it's landscape oriented pages and early use of sequentially appearing text and transitions between pages from artist Christine Larsen, showed the world what was possible with the new medium of digital comics. A tale of two French soldiers separated from their comrades during Napoleon's retreat from Russia in the War of 1812, this bleak and wintery supernatural tale takes you into some dark and terrifying places as main characters Valentine and Oscar attempt to make their way through the blizzard and back to safety. Although it may seem a tad basic when compared to other books on this list, this is a true trailblazer and deserves to be recognised as such.
A collected edition of all 10 chapters of Valentine is available from Image Comics and ComiXology for £12.99/$17.99
5. War of the Woods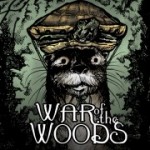 Matthew Petz's anthropomorphic alien invasion story may start off as cutesy tale about a pair of otters and their turtle buddy, but soon morphs into a stunning hybrid of 'animal adventure' and 'alien invasion' as lead character Finn sets out to save the world from slobbering alien monsters from another planet. Petz's loose storybook style uses the landscape space with great skill creating a story that works as well in its new Guided View format as it does in print. One of the most original and outstanding digital comics currently available.
Season #1 of War of the Woods is available from ComiXology for £3.99/$4.99 while issues #1-5 of Season 2 are available for £0.69/$0.99 each
Read our interview with Matthew Petz discussing War of the Woods
6. Unity 8-bit Adventure (Valiant Entertainment)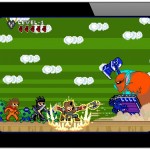 For Valiant's recent crossover storyline they have taken the members of new superhero team Unity and created a digital first one shot that sees the team put through their paces courtesy of an 80s sideways scrolling video game style training sequence. This stunning artwork comes courtesy of artist Donovan Santiago (who had previously created their 8-bit variant covers), and makes Unity 8-bit Adventure read like a scenario from the X-Men's Danger Room run on a Super Nintendo. Creating a superb hybrid of digital comic and retro video game the visual jokes make for one hell of a fun one-off title to accompany the rest of this epic crossover – and is essential reading for anyone who spent their formative years playing Super Mario Brothers or Metroid!
Unity 8-bit Adventure is available from ComiXology for £0.99/$1.99
Read our review of Unity 8-bit Adventure here
7. Atomic Robo presents Two Fisted Tales – Along came a Tarantula (Red 5)
Brian Clevinger and Scott Wegener's Atomic Robo mixes super smart science fiction with laugh out loud gags, so for this, their first foray into digital comics, they needed to make an impact – and boy did they! The story of Robo's former flame/crazy ex who attempts to make his life hell with a robotic tarantula suit that shoots lasers manages to create the perfect hybrid of humour, action and digital innovation. With Wegener's artwork making the most of the new digital technology but not getting in the way of Clevinger's whip smart script, this is one of those books that gets better and better with every read.
Atomic Robo presents Two Fisted Tales – Along Came A Tarantula is available from ComiXology for £0.99/$1.99
Read our interview with Atomic Robo writer Brian Clevinger here
8. Red Light Properties (MonkeyBrain Comics)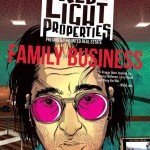 Monkeybrain Comics have carved a superb niche for themselves as the publisher of some of our favourite and most innovative digital comics. But perhaps the most 'out there' title in this ecelctic group of titles it Dan Goldman's Red Light Properties. The tale of Jude and Cecilia a pair of supernatural real estate agents who clear out ghosts from unsellable houses is part family situation drama, part supernatural adventure and part psychedelic daydream. Goldman's mixed media artwork that incorporates line drawing, photo montage and computer graphics gives the book a surreal otherworldly feel that perfectly matches the strange subject matter – suffice to say if this book was in portrait orientation it just wouldn't feel right!
Download all available issues of Red Light Properties in English and Spanish from ComiXology for £0.69/£0.99 per issue
Red our interview with Red Light Properties creator Dan Goldman here
9. Guardians of the Galaxy Infinite – Drax the Destroyer (Marvel Comics)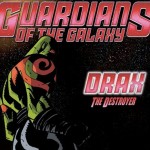 Part of a series of digital one shots designed to introduce fans to the Guardians ahead of their cinematic debut in 2014, this offering from the Powers team of Brian Michael Bendis and Michael Avon Oeming showcases the possibilities for Infinite comics when given to a pair of true comics heavyweights. With a smart punchy story allowing Oeming's stark angular artwork to shine, this issue is further amplified by the layout work of Yves 'Balak' Bigerel one of the unsung heroes digital comics. Oeming's fondness for an unorthodox page layout is given free reign with vertically scrolling pages and epic splashes which showcase his artwork to it's fullest and for a mainstream title this is probably the most indie spirited digital comic around. It's just a shame that this is only a one-off from Bendis and Oeming!
Guardians of the Galaxy Infinite: Drax The Destroyer is available from the Marvel Comics app and ComiXology for £0.69/$0.99
Read our interview with Michael Oeming about Guardians of the Galaxy here
10. Double Barrel / Heck (Top Shelf ComiX)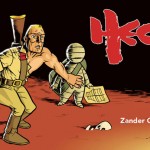 Kevin and Zander Cannon's digital anthology provides fans of their books Heck and Crater XV a regular monthly dose of their favourite characters (plus a whole host more) rather than having to wait for them to be released in print or collected form. Although primarily in portrait format, Zander Cannon's Heck soon defaulted to landscape with issue three of Double Barrel which better suited the comic strip styling a of this hell-bound adventurer and his bandaged sidekick. Including reading instructions for readers to change orientation half way through the book, this an incredibly bold publishing choice that can only work in the world of digital and should serve as a timely reminder for creators to be brave with their publishing choices and not let the medium define the story in this brave new world.
Double Barrel #1-12 are available  via ComiXology for £0.99/$1.99 or Heck is available in a collected form for £6.99/$9.99
Read our exclusive interview with Kevin and Zander Cannon about the first year of Double Barrel here
Author:
Alex Thomas
Alex Thomas is the Editor and founder of PIpedream Comics. He grew up reading comics in the 90s, so even though he loves all things indie and small press, he is easily distracted by a hologram cover.